The Company secured exploration rights and an option to purchase a group of claims in the Pyramid Mining District of Nevada in May 2019.
The project is located 25 miles northwest of Reno and is readily accessible from State Highway 445 which crosses the northwest tip of the project.
Project Highlights
Located in productive Walker Lane porphyry copper/epithermal gold belt
Claims contain a number of untested epithermal veins and stockwork target zones with widespread surface samples assayed up to 7.27 g/t Au and averaged 1.3 g/t Au
Gold and silver geochemical anomalies defined with soils containing up to 1.63 g/t gold and 297 g/t silver
Trench No.1 on the North Ruth silver-gold soil anomaly cut a continuous width of 45.72m grading 61 g/t silver (1.78 ounces/ton) including 9.14m grading 146 g/t silver (4.26 ounces/ton)
Trench No.2, 460m along strike from Trench No.2 includes 3m grading 260 g/t Silver (7.58 ounces/ton).
Geology & Mineralisation
The Pyramid Mining District lies at the northwest end of the Walker Lane mineral belt which is host to numerous past and currently producing multi-million ounce epithermal gold deposits as well porphyry copper and porphyry molybdenum deposits.
The Company's claim interests cover the Ruth vein system and a number of parallel vein systems and zones of alteration. In addition to abundant quartz and pyrite, vein minerals in unoxidized ore from the Ruth vein system include barite, anglesite, galena, sphalerite, acanthite, gold, and cassiterite.
Company Exploration
In 2020 the Company carried out a soil sampling programme. This confirmed a historic soil anomaly over the "Western Line" over a strike length of 1000m with values up to 349ppb gold (0.35 g/t Au) and 22 ppm silver. Wider spaced sample lines to the southeast suggesting a possible 750m extension to the Western Line Anomaly where infill sampling has been completed and results are awaited.
The survey also identified two new, untested soil anomalies, anomalous for both gold and silver. The first of these appears to be a splay off Western Line (the Western Splay Anomaly) and has a length of 550m open to the south. The second is an 800m-long anomaly located to the northeast of the Western Line Anomaly and follows a northern projection of the Ruth Mine vein system (the "North Ruth Anomaly").
Follow up prospecting has identified areas of silicified and brecciated Tertiary-age volcanics at the North Ruth Anomaly and samples of spoil from an old shaft were analysed to contain 314 g/t silver (9.16 ounces/ton) amongst eight samples averaging 91 g/t silver (2.67 ounces/ton) and 0.26 g/t gold.
Seven rock chip samples were taken from within the open ended 900m length of the Western Line soil anomaly, at the northwest and southeast ends, due to limited outcrop in between. The samples averaged 1.49 g/t gold and 99 g/t silver (2.89 ounces/ton) with a maximum value of 6.29 g/t gold and 158 g/t silver (4.61 ounces/ton) from a select rock chip sample of a narrow vein exposed at the collar of an old shaft.
Five of the samples were taken at the southeast end of the anomaly over an anomaly width of approximately 60m. These samples averaged 0.77 g/t gold and 104.11 g/t silver, with the best sample returning 1.43 g/t gold and 327 g/t silver from a 0.30m outcrop channel sample. An additional 2 samples located approximately 900m further southeast were taken in what is interpreted to be a potential extension to the Western Line. Both samples contained anomalous Au/Ag with Sample PR 29 returning 0.49 g/t Au and 51 g/t Ag. Numerous prospector pits follow the strike of the anomaly suggesting a total length of up 1,700m.
Trenching
Follow-up trenching has so far been restricted to the North Ruth and Western Line soil anomalies where they fall within the private land portion of the Pyramid Property under lease to the Company. Six trenches were dug in April 2021 to expose bedrock over continuous sections of these two anomalies.
Two trenches, Nos. I and 2, were located over the north and south ends of the North Ruth anomaly respectively. Assay results from Trench No.1 revealed a 45.7m continuous width of mineralisation grading 61ppm silver (1.78 ounces/ton) and 0.09ppm gold starting 42.67m from the east end of the trench and continuing up to the western end where it ended in mineralisation.
This 45.7m section contained two separate higher-grade zones of 9.14m grading 146 g/t silver (4.27 ounces/ton) and 0.10 g/t gold and 3.05m grading 99 g/t silver (2.88 ounces/ton) and 0.15 g/t gold. The silver bearing zone is flanked on the eastern side by a 9.14m wide zone with higher gold values averaging 0.54 g/t gold and 11 g./t silver.
The next nearest trench, Trench No.2, some 460m along strike, cut 3.05 m grading 260 g/t silver (7.58 ounces/ton) and 0.27 g/t gold.
A summary of significant results is shown in the table below.
Four other trenches were cut at spacings of between 95m to 250m over a 470m strike length of the Western Line soil anomaly and cut through a number of narrow zones of low-grade gold and silver mineralisation as shown in the table below. Further work on the Western Line soil anomaly, at least within the private land portions of the property, is not currently a priority.
The silver mineralisation in Trench No.1 occurs within a quartz latite tuff showing varying levels of epithermal argillic alteration and silicification. Additional infill soil sampling has been completed on the south end of the project area, on public lands secured by mining claims, and results are awaited.
Table of significant trench results.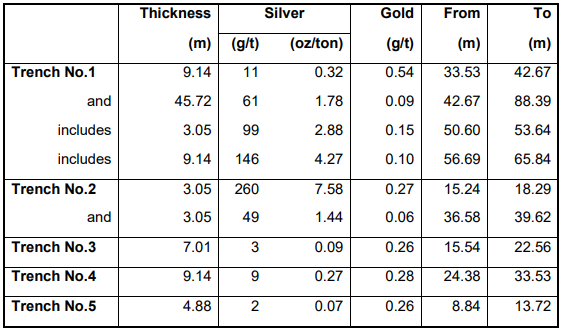 Next Steps
The Company will move to better define and drill test the North Ruth silver mineralisation as soon as possible and will consider additional trenching once the additional soil sample results become available.